I tasted these in Paris. My mother in law would make these cookies all the time. They are addicting. If you like Hazelnuts (filberts) and hard cookies to have in the morning (or all day),then you are going to be addicted to these cookies. I made them five times already and finished the cookies all my by myself (Now I am going to have to spend the rest of my life at the gym). It is hard to make cookies everyone likes because everyone has their own taste. I remember people telling me all the time that they have the best chocolate chip cookie recipe for me, and I would just keep telling them that I simply do not like chocolate chip cookies. So I cannot tell you if you will like these cookies, what I can say is that if you like these cookies you will be addicted to them and make them many more times 🙂
Yield: 40  Time: 20 Minutes
Ingredients:
2 cups of flour
1/2 cup of ground hazelnuts (filberts)
1 1/2 stick of margarine (3/4 cup)
1/3 cup of sugar
2 tbsp of vanilla sugar
2 egg yolks
powdered sugar for topping
Directions:
Step One:
Preheat the oven to 325 degrees. Mix the flour, ground hazelnuts, sugar and vanilla sugar in a bowl. Add the margarine in pieces and mix by hand ( or however you like) until it  is crumby. Then add the egg yolks and mix until a dough forms.
Step two:
Shape the cookies by hand into moon forms (take pieces, roll it with your hand and form a moon). Place on sheet pan with parchment paper, and put in the oven for about 10 minutes (when the bottom is slightly golden). When cool, dust powdered sugar over the cookies.
I was taking pictures and my niece literally  stole a cookie!! I thought it was so cute.
The cookie is so flaky, and the aftertaste forces you to take another. That's how I finish the cookies. I have such good memories from these cookies because we would only eat them when there were happy events happening. Anyway, can you please make these cookies? They are so easy to make! I am heading to the kitchen right now and making another batch. 🙂
Summary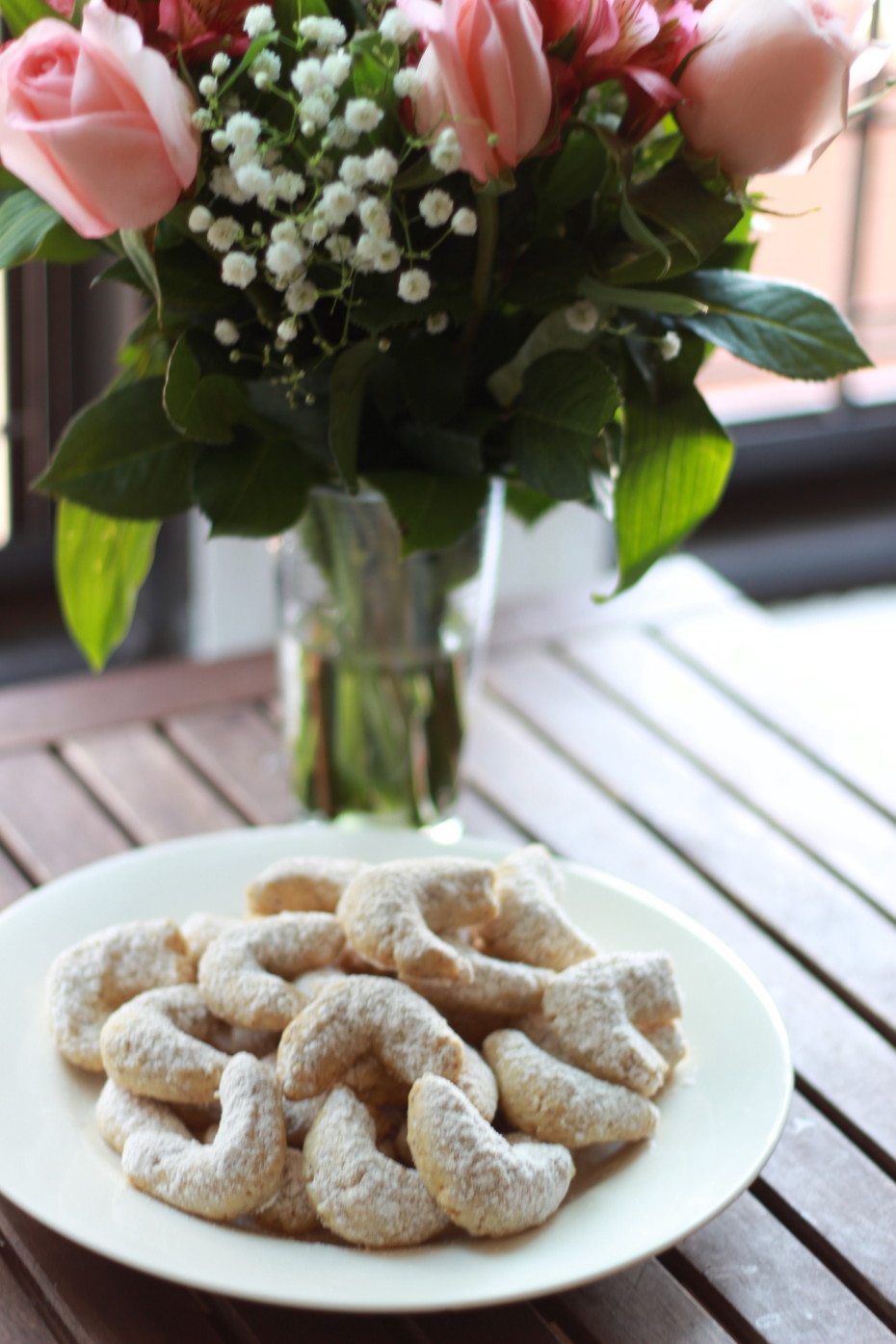 Recipe Name
Published On
Preparation Time
Cook Time
Total Time
Average Rating





Based on 1 Review(s)