My family arrived earlier this month and we were too busy with the holidays. I decided to make a brunch after the holidays so we can relax  and enjoy some homemade food. I made puff pastry squares filled with caramelized onions, cheese, tomato and basil, They were so good! I will give you some tips on how to plate and what you can serve when making a brunch.
Tomato basil puff pastry squares:
Yield: 15  Time: 40 minutes
Ingredients:
15 puff pastry squares (2.5″x2.5″)
1 onion
3 tomatoes sliced thin
Goat cheese
Parmesan cheese
15 Basil leaves ( or pesto)
Olive oil for drizzling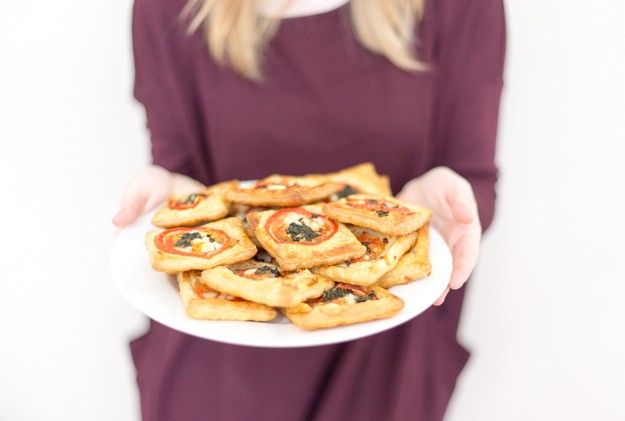 Directions:
Step one:
Cut the onion in half and slice the onion very thin. Start sautéing the onion and set the fire on low till it gets caramelized ( about 15 minutes). Set aside.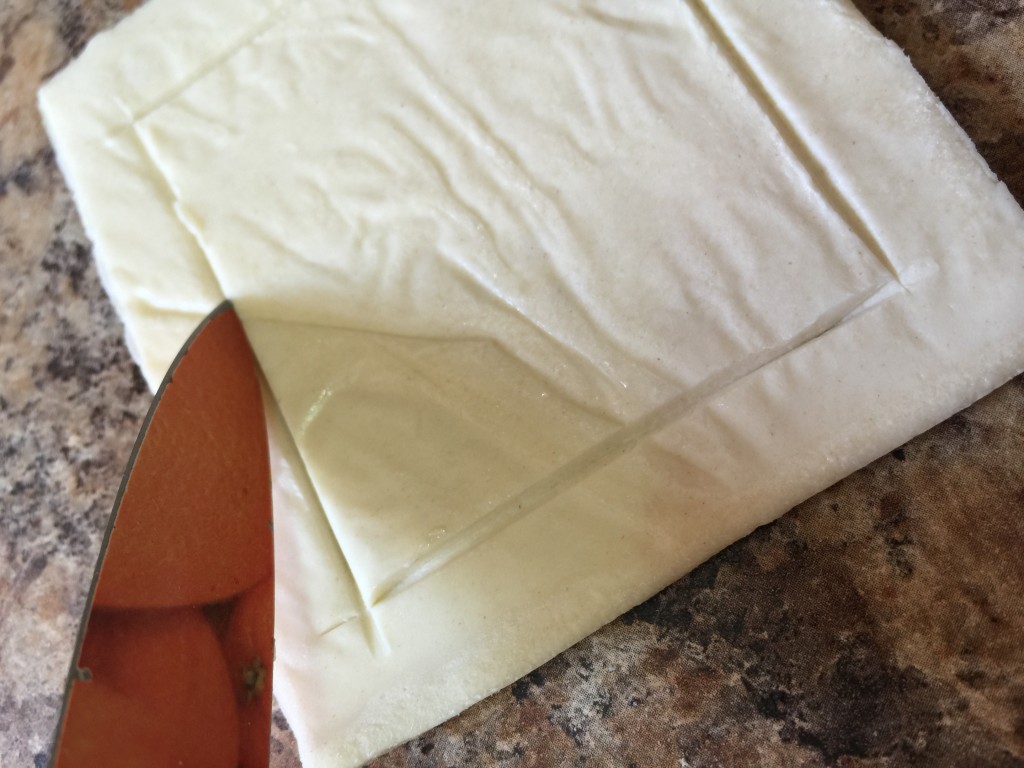 Step two:
While the onions are caramelizing preheat the oven to 425 degrees. The puff pastry squares have to be very cold when handling ( or else put them back in the freezer before filling them up). Take the back of a knife and mark a smaller square in the inside of the pastry squares so that the sides puff up when baking.
Step three:
Place grated Parmesan cheese in the middle of every pastry square, then, add the onions, pieces of goat cheese, tomato slices and top it off with a leaf of basil or some pesto. Drizzle olive oil and bake for 25 minutes or until lightly browned.
I am giving you this recipe because the croissant recipe I already gave and these were the second thing that finished once I put it on the table. This is actually the only recipe where I will eat a tomato. I usually can't handle any tomatoes ( hence there are not a lot of recipes with it lol) but I still use tomatoes when cooking for others. If you don't like tomatoes I ask you to make this recipe and you will love it. Because there are so many other flavors you can't really taste it.
Speaking about tomatoes, I made a plate of sliced tomatoes with some basil (once in a while I will buy a bunch of basil and chop it up in a Tupperware and cover it with olive oil so I can use it whenever I need basil). I added white balsamic vinegar and shaved Parmesan cheese.
You can make any type of themed brunches. I really wanted to keep it simple by making homemade croissant, tomato basil pastry squares, avocado plate, tomato plate, pancakes, omelettes, arugula salad, pizza ..etc there are so many things you can do. Some people like having fish, others pasta… It is really up to you to decide what type of breakfast you want and what type lunch so you can make a lovely brunch 🙂 enjoy!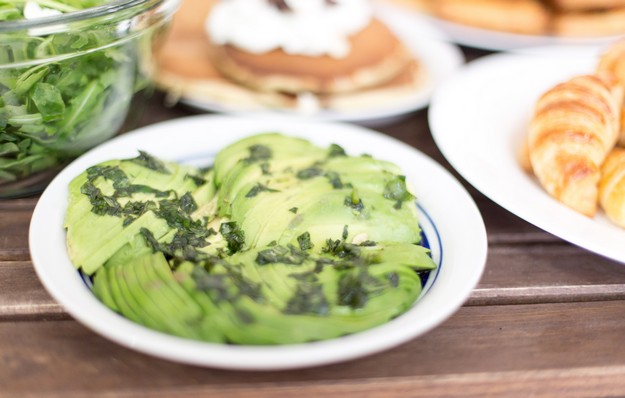 Summary
Recipe Name
Tomato Basil Puff Pastry Squares
Published On
Preparation Time
Cook Time
Total Time
Average Rating





Based on 1 Review(s)