I like making my steaks simple, but once in a while I need to bring out that french in me and make a wine sauce. When I make steak I usually add some fresh rosemary or thyme to the pan so it gives flavor so this time I made a wine sauce to it. This dish is rich and full of flavor. I would recommend serving it with truffle mashed potatoes and green beans 🙂
Yield: 2 Time: 20 min
Ingredients:
2 rib eye steaks
1/2 cup of dry red wine
4 sprigs of rosemary
2 cloves of garlic unpeeled smashed
Salt and pepper to taste
Olive oil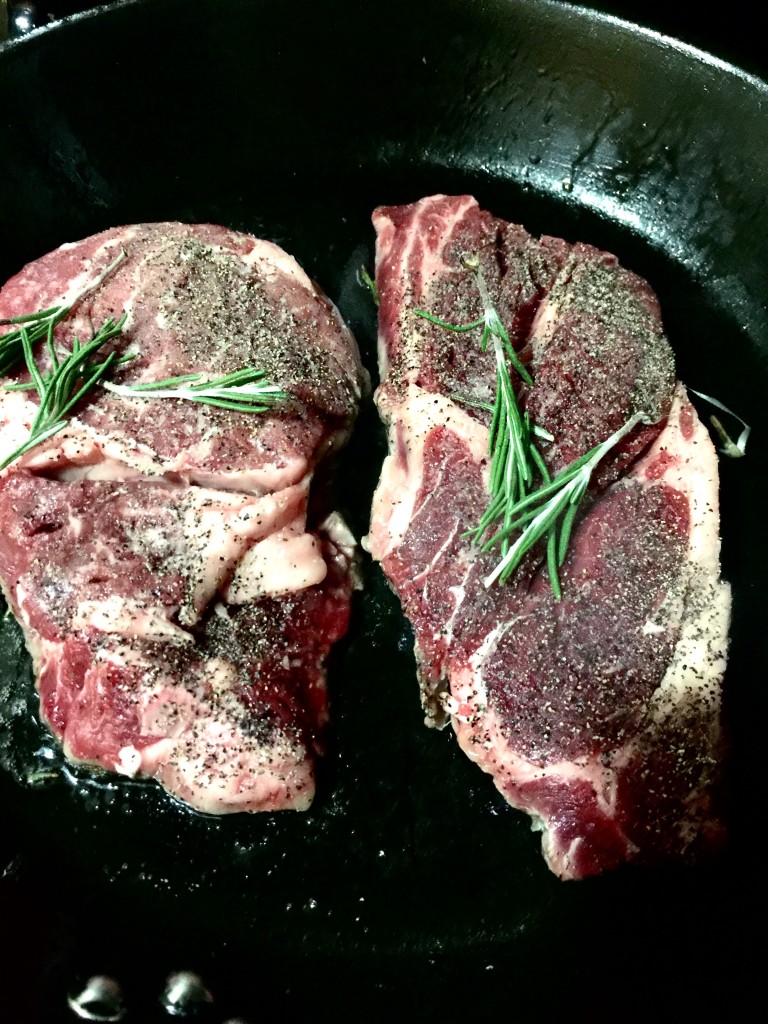 Directions:
Step one:
Preheat oven to 400 degrees. Take the steaks ten minutes prior to cooking so it cooks evenly. Dry the steaks well ( so they sear well). Season with salt and pepper and place one sprig of rosemary on each side if the steak.
Step two:
Heat a pan with a drizzle of olive oil until you see some smoke, then place the steaks and sear each side for 2-3 minutes. Place steaks in oven for 3-4 minutes.
Step three:
When steak is done place them on a plate and cover it with foil. Remove the sprigs of rosemary and add the garlic to the pan and place on stove for about a minutes to give the steak juice and fat a lot of flavor. Remove the pan and add the wine. Then return back on  stove and let the sauce boil down. Remove garlic cloves when ready and pour sauce over steak.
When I took that first bite I had so many flashbacks from when I lived in Paris… Anything made with wine reminds me of Paris. You should seriously try this recipe. I mean you better try this recipe..If not I am literally going to come over and cook it for you guys! 😉
Summary
Recipe Name
steak with rosemary wine sauce
Published On
Preparation Time
Cook Time
Total Time
Average Rating





Based on 1 Review(s)