I was going to post the rice recipe only, but then I figured everyone would want the chicken and broccoli too (lol). I have been going to so many Chinese takeouts here in New York, and no one serves cantonese rice. When I lived in Paris, every
Sunday
my husband and I would order Chinese takeout. I would always order the cantonese rice, its so fluffy and has the smokey flavor from the smoked turkey breast. You know how many times I make meals, and rice is a go to side dish? So practical but very simple and plain. When you make this rice everyone will be amazed. You can serve this however you like. This recipe is very simple so take your leftover rice and turn it into something delicious!
Yield: 6 Time: 30 minutes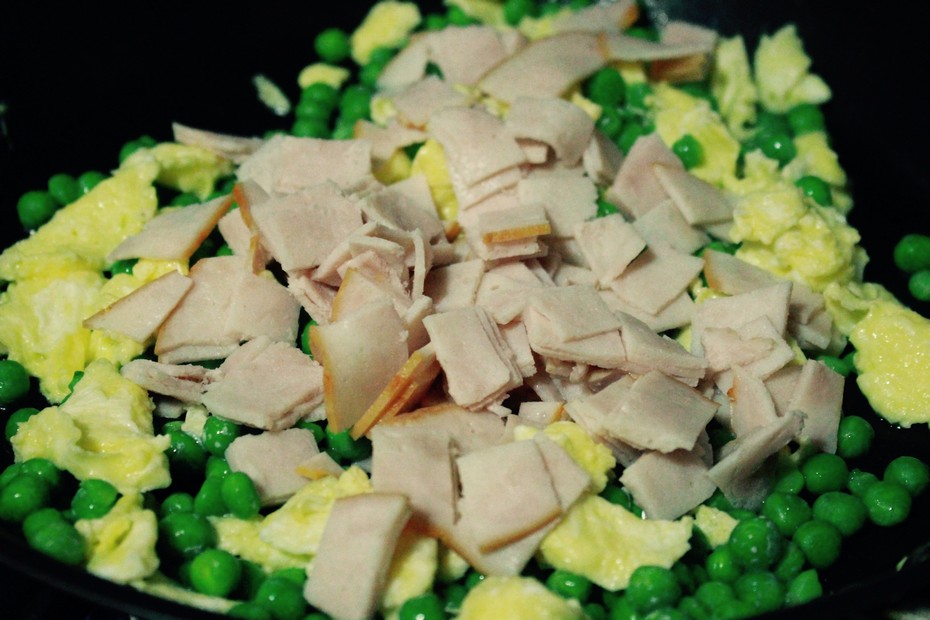 Cantonese rice ingredients
:
3 cups of cooked basmati rice (or your favorite rice)
3/4 cup of frozen peas
6 slices of smoked turkey breast cut into 1/2 inch squares
2 eggs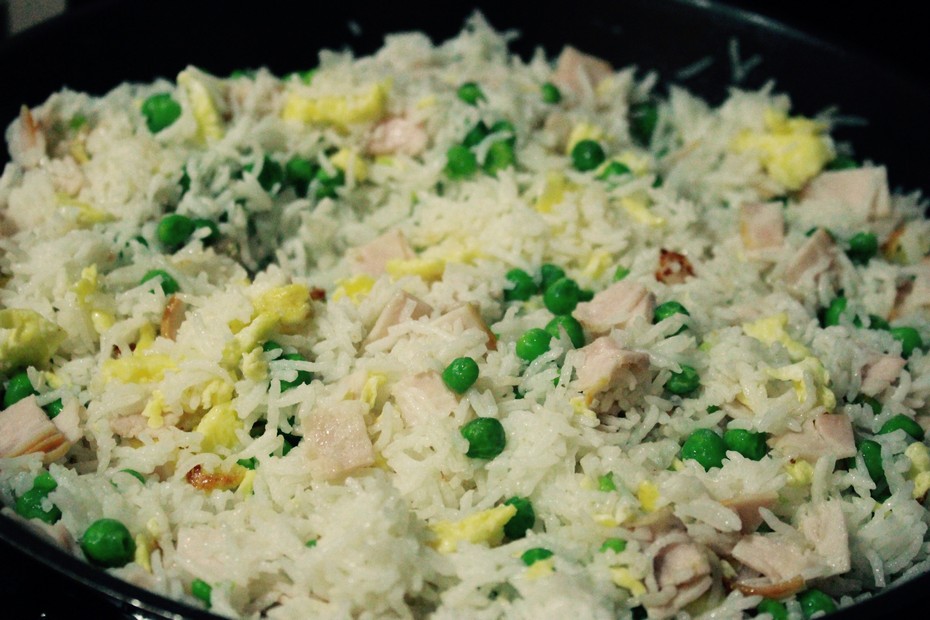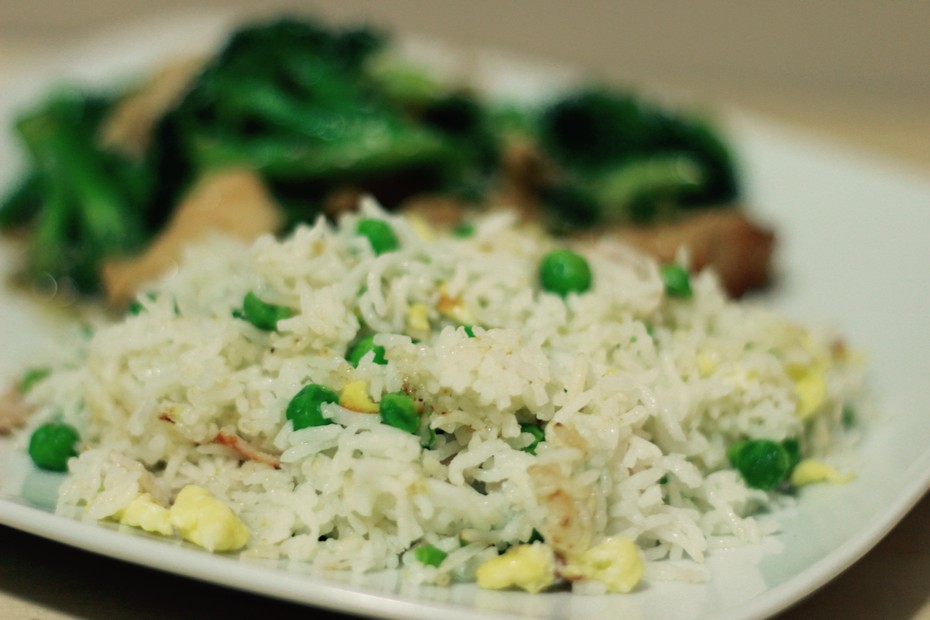 Chicken and broccoli ingredients
:
4 boneless chicken breasts cut into thin slivers
1 head of broccoli cut into bite size pieces
Marinade:
2 tbsp of oil
2 tbsp of water
1 tsp of sugar
1 tsp of baking powder
2 tsp of cornstarch
2 tbsp of low sodium soy sauce
Sauce:
1/3 cup of low sodium soy sauce
2 tbsp of brown sugar
4 cloves of garlic, minced
2 tbsp of flour
1 tbsp of rice vinegar
1 tbsp vegetable oil
3 tbsp of water
Step one:
Mix the marinade in a bowl, add the chicken and set aside. In the meantime heat a pot of water to boil with a lot of salt in order to blanch the broccoli. When the water is boiling put the broccoli in the water for three minutes and then drain it, and set aside.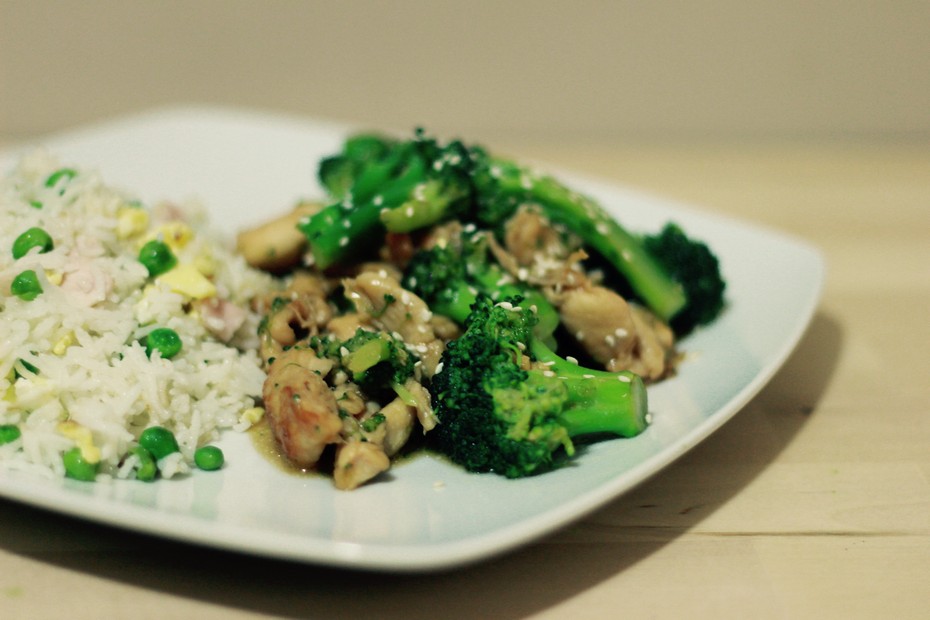 Step two:
In a bowl mix the sauce ingredients, in a large skillet or pan over medium high heat, heat some oil, add the chicken and sauté for 3 minutes, add half of the mixture and cook another 2 minutes stirring frequently. In the meantime scramble the eggs in a different pan, add the peas and the smoked turkey and sauté for 3 minutes.
Step three:
Add the blanched broccoli to the chicken and pour the rest of the sauce over it, and let it simmer for 2 minutes. Add the cooked rice to the scrambled eggs, peas and smoked turkey, and stir so the rice gets some of the smoked turkey flavor.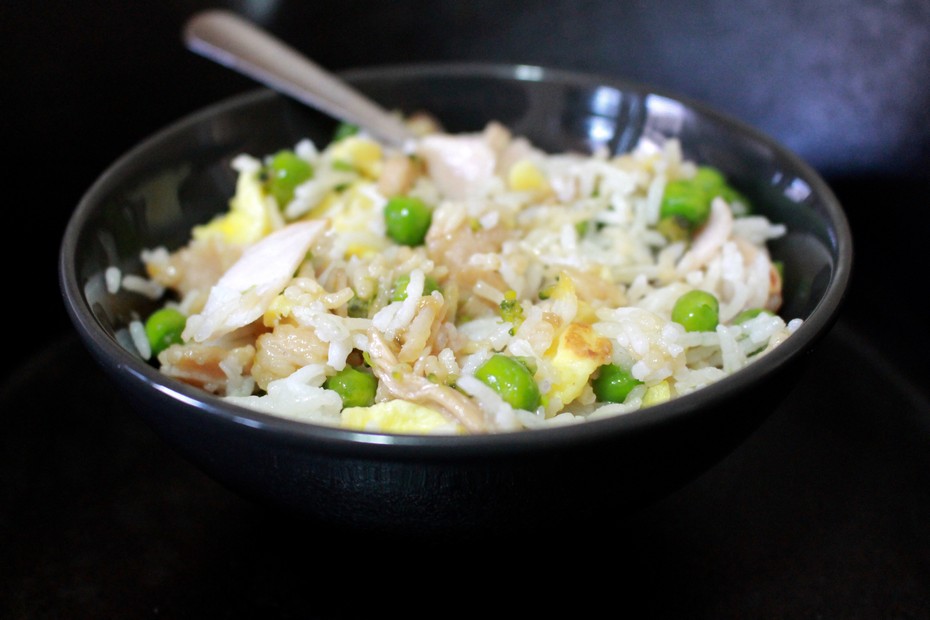 I woke up the next day ready to make breakfast, and when I opened the fridge there was a Chinese food leftover smell ( yes there were leftovers because we were only two, and yes Chinese leftovers smell like heaven),  I stood there for a minute enjoying the smell and ate the leftovers for lunch. It was actually better the next day. Long story short, you gotta make this.