I've spent years trying to make the perfect french fresh fruit tarts. The crust wasn't sweet nor crispy. Or the almond cream was too strong and dense. There was also the pastry cream, I always messed up the pastry cream. After a few times making tarts, the pastry cream was really easy. And for the crust, I had the best idea ever. Sugar cookie dough. It's sweet and crunchy. For the almond cream, it's a funny story. I never asked my sister (whom lives in paris) for the recipe, and on a random Friday she sent the recipe. So i decided to make it. And that recipe is the best one.
Yield: 1 tart or six small ones Time: 1hr30
Ingredients:
Tart dough:(makes 2 big tarts)
1 1/2 cups butter softened
2 cups of white sugar
4 eggs
1 tsp vanilla extract
5 cups of A.P flour
2 tsps baking powder
1 tsp of salt
Almond cream:
3 tbsp of butter
1/2 cup of powdered sugar
1/2 cup of almond flour ( grind almonds if you can't find almond flour)
2 tsps of cornstarch
1 egg
Pastry cream:
2 cups of milk/almon milk/ rice milk
4 egg yolks
3/4 cup of sugar
1 tbsp of vanilla sugar
1/2 cup of flour
1 tbsp of butter
Topping:
Fresh fruits of your choice
Directions:
Step One:
Tart: In a large bowl, cream together butter and sugar until smooth. Beat in eggs and vanilla. Stir in the flour, baking powder, and salt. Cover, and chill dough for at least 30 minutes.
Step Two:
Almond cream: Cream the butter and sugar together, add the flour salt and cornstarch and mix again. Then add the egg and mix until creamy. Put in Fridge.
Step Three:
Preheat oven to 350 degrees. Roll out dough on floured surface 1/4 inch thick and place in tart pan. Pour the almond cream on top and spread it around and bake for 20-30 minutes until almond cream is cooked and dough is golden brown.
Step Four:
Pastry cream: In a heavy saucepan, stir together the milk and vanilla sugar. Bring to a boil over medium heat.
Step Five:
Pastry cream: In a medium bowl, whisk together the egg yolks and sugar. Add the flour and stir until smoth and light yellow in color. When the milk comes to a boil, drizzle it into the bowl in a thin stream while mixing so that you do not cook the eggs. Return the mixture to the saucepan, and slowly bring to a boil, stirring constantly so the eggs don' t curdle or scorch on the bottom.
Step Six:
Pastry cream: When the mixture comes to a boil and thickens, remove from the heat. Stir in the butter mixing until the butter is completely blended in. Pour into a heat-proof container and place a piece of plastic wrap directly on the surface to prevent a skin from forming. Refrigerate until chilled before using.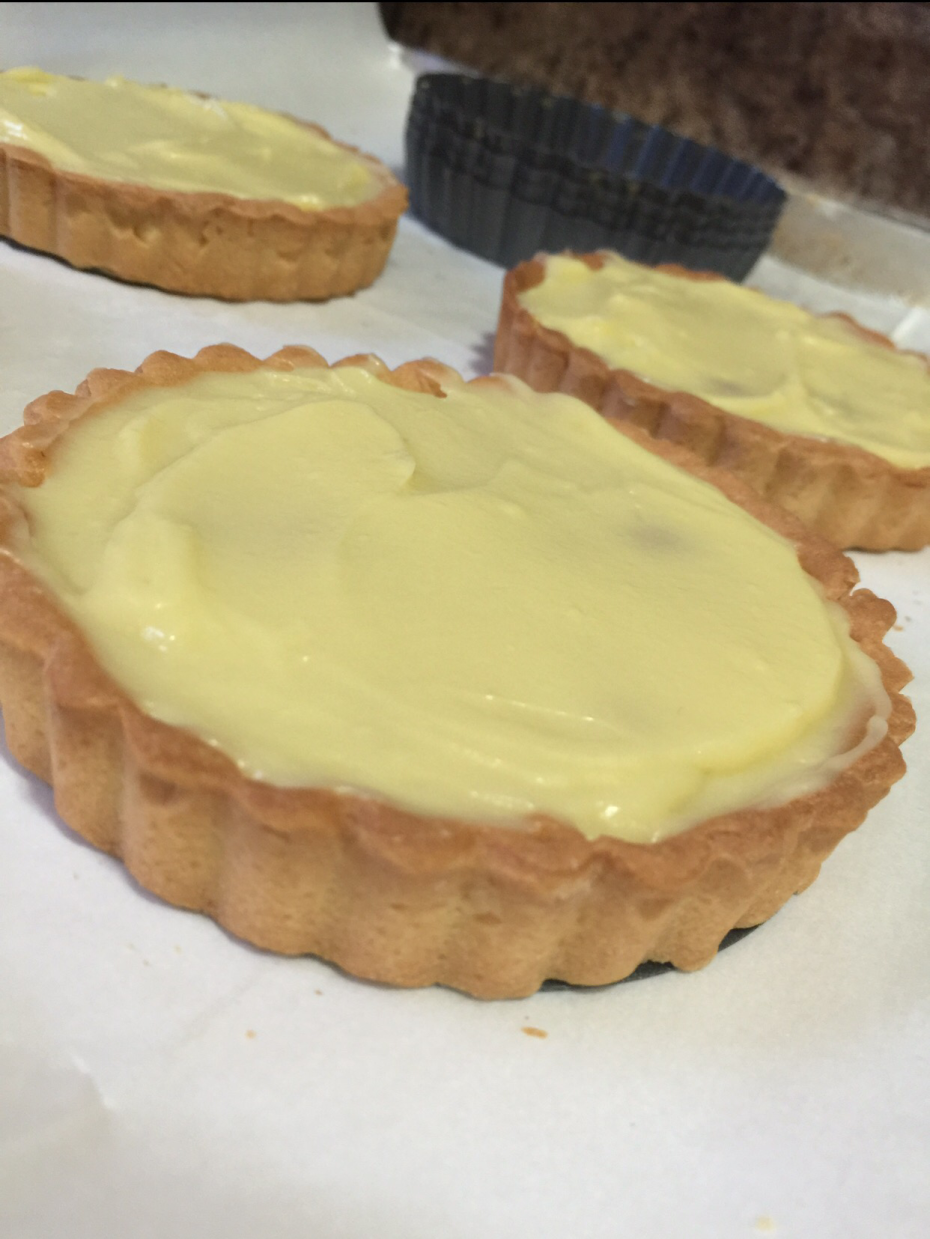 Spread pastry cream in the tart and garnish with fresh fruit. Brush a homemade glaze ( apricot jam or sugar/water glaze) and store in refrigerator until ready to serve.

I know there are many steps but it is so worth it. You can always skip the tart dough part and buy frozen pastry dough ( which I am sure most of you will do 😜) but it is really worth it to make your own! I hope you enjoy!!