That is one big title, But don't worry its not hard to make. If you notice in my posts, most of the dinner recipes are meat, because I am not a big fan of dairy meals unless it is a very good one like this 🙂 . The fries are inspired by Brooklyn's famous Basil restaurant. They have truffle home fries that are delicious, so i decided to make them. In addition they have an arugula beet salad with goat cheese, but it is very different than my recipe. I would say it is a mixture of creativity and inspiration.
Ingredients:
Salmon recipe:
Two salmon fillets
1 tbsp of dijon mustard
1/2 cup of breadcrumbs
2 tbsp of balsamic vinegar
1 tbsp of honey
Arugula salad:
One package of arugula
4 1/2 inch slices of goat cheese
Breads crumbs
One egg
1 lemon
1/4 cup of olive oil
1/4 cup of grated Parmesan
Salt and pepper to taste
Home fries:
5 Yukon gold potatoes
Oil for frying
Salt to taste
Parmesan for deco
Parsley for deco
1 tsp of truffle oil to drizzle
Directions:

Step one:
Preheat oven to 350 degrees. Brush Dijon mustard over the salmon fillets then coat the top of the salmon with bread crumbs. Fry the salmon on high for 3-5 minutes in order to get the skin crunchy. Then place it in a foil pan and in the oven for 10 minutes. In the same pan you fried the salmon add the balsamic vinegar and honey. Stir and let it reduce to half.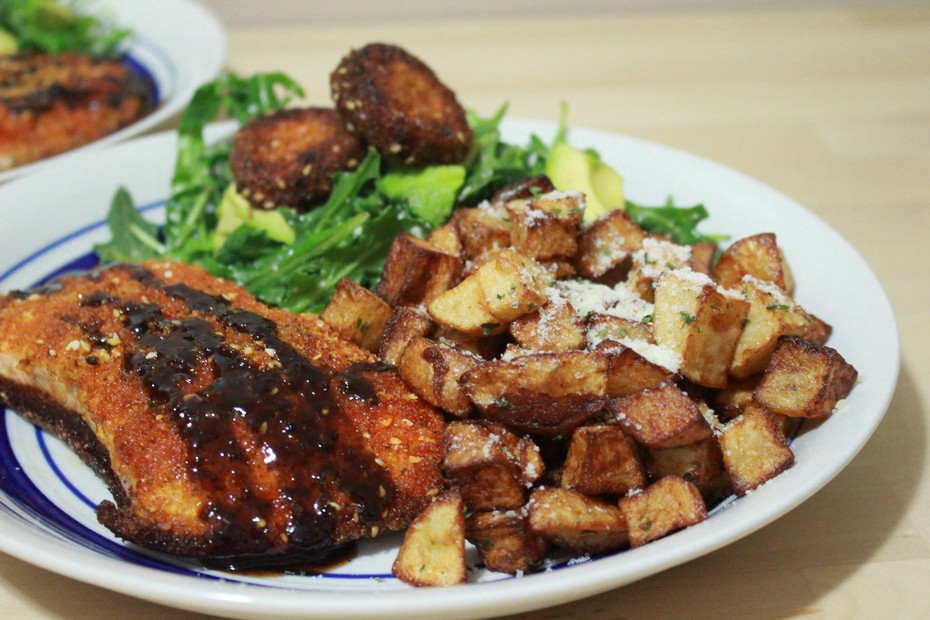 Step two:
In the meantime, cut the potatoes into cubes and fry them till done. While the potatoes are frying, dip the goat cheese in egg then coat with breadcrumbs and place the goat cheese in the freezer (or else when you fry them they will melt).
When the potatoes are done sprinkle with salt, add parsley,toss the fries with the truffle oil and decorate with Parmesan cheese.
Step three:
Fry the goat cheese for 2 minutes on both sides and place on a paper towel. Mix the olive oil, lemon juice, Parmesan, salt and pepper in a bowl and set aside.
Step four:
Place the salmon fries and arugula in a plate. Place the goat cheese on the salad and drizzle with the dressing. Drizzle the balsamic reduction on the salmon. You are done.
There are a lot of steps in this recipe but it is very easy to do, and it is so worth it. You have never tasted something like this. I'm serious, I will probably make this dish many more times. That is actually what I do, when I like a recipe I make it so many times till I cant eat it anymore and then I wait a couple of months and make it again.  This is a restaurant quality dish, so maybe skip the restaurant tonight and make this for your hubby 😉
Summary
Recipe Name
Dijon crusted salmon with balsamic reduction, arugula goat cheese salad with Parmesan dressing, and truffle home fries
Published On
Preparation Time
Cook Time
Total Time
Average Rating





Based on 1 Review(s)